Welcome to the TrekCreative Mailing List Home Page
The TrekCreative Mailing List is the direct descendant of the FIDO echo Star_Trek_Creative. Those interested in the discussion of Star Trek with a bent towards writing are encouraged to join the mailing list. You don't have to be a writer, anyone can join in.
Within the discussions can range from the best way to portray a character, current politics and how that relates to the presentation of the galaxy of the 24th century, to what are the social conditions in the various regions of the galaxy of Star Trek. The tone will move from lighthearted to serious and back again.
Members of the list also post stories or story parts as well as other creative work for your enjoyment and critique. No one is pushed into more criticism than they are willing to take. Ask people to be gentle, and they will.

What the Funny Letters Mean
Or, The Trekcreative Story Rateing System

Some useful Terms for discussion.

I have a few Questions or the Trek Creative FAQ page.




The TrekCreative Crew
Below we have brief bios and some photos of those Trek Creative members that wished to be listed, as well as links to their websites if they have them.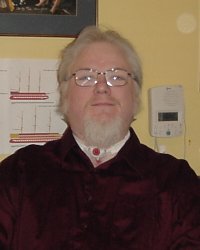 Garry Stahl: Webmaster and current moderator of the Trek Creative Mailing List.
Garry is the creator and main author of the Epiphany Trek setting. His website The Olde Phoenix Inn contains evidence of his main passions, Star Trek/science fiction, role-playing, and Amiga computers. He describes himself as "A first generation Star Trek fan and role-player. I have been writing fan fiction in the Star Trek Universe since 1997. It has attracted, against all odds, a small but ardent audience that keeps my ego up high enough that I keep writing it. I thank all of them." He also builds models in the Star Trek and fantasy genre.
Other than this he lives in Dearborn Michigan with his wonderful Wife Sue (Who also writes), his Son Matthew, cats Zackery, Flower, Midnight, and his King Python Perclies. The house is overstuffed with books, models, music, horses, and gaming materials.

Garry's Home Page is The Olde Phoenix Inn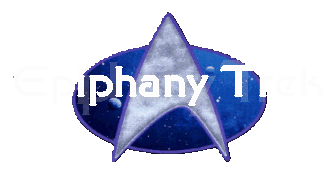 Epiphany Trek OC/ALL:"The Age of Discovery is Only Beginning" Adventure and discovery within multiple settings of the Star Trek Universe. Sail with Captain Taraban and the USS Questing, Captain James Timothy Kirk and the USS Kongo, or Captain Nelson and the USS Grant. Seek justice on High Crystal Station with Constable Terkos, or adventure in other places and times.

The Life Aware PG/OC/TNG Illta interviews Denarban. Are the Questions all there really is? 12-09 This one is not "New" but somehow it has escaped making the updates.


The Little Foxes PG/OC/TNG Something is gnawing on the new Kongo. Can they find the answers before something serious gets damaged? 02-11

The Actor's Tale By Susan Stahl G-OC/None: The shakedown cruise of the new Mitchell Paige is complicated by events spinning out of control, but the show must go on.. 04-11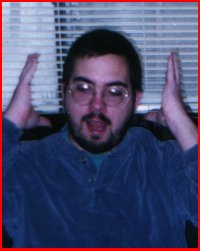 Jay P. Hailey: Jay lives in Spokane Washington physically. Somewhere in Deep Space mentally. He is the compiler and writer of the Star Trek -- Outwardly Mobile setting.
Jay is an inveterate trekkie, role-playing game hobbyist, and cat-person. Jay has been inventing this for Trek role playing and then writing stories about them since 1983, with a long break between 1987 and 1994.
Jay lives with Sandra Hedlund and three cats, Angel, Teddy-Bear, and Rita.
Jay is currently celebrating his continuing marriage to Sandi Hedlund, the twelfth year of writing Star Trek: Outwardly Mobile, and anything else he can think of to celebrate.

Jay says: "I have always believed that the prose speaks for itself. Go read the damn stories."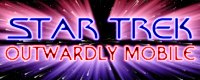 Star Trek -- Outwardly Mobile OC/TNG: Follow the Adventures Of Captians Hailey, Lir'ira and others as they push the edge of the unknown, one and all Outwardly Mobile



Banshee Squadron

PG-13 (Language, Violence)

Alex Dalton has wings on her ankles and can't get enough flight time. Can she survive as a member of Banshee Squadron?

05-2008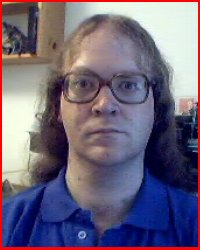 Steve Oostrom: Steve currently resides in Oshawa, Ontario, and he has been writing Star Trek-based fan fiction since the late seventies, when he watched the original series as an after-school activity and decided, "I can write stories like that too." Instead of further adventures of Kirk and crew, he created his own ship and crew, and his own alien races, especially the Odonans. Stories and even novels followed, as he created his own particular view of the Star Trek universe. Steve has a number of other interests, which currently include computer baseball, cartography and linguistics (these change regularly). With the last of those, he has created a number of artifical constructed languages, including Allemonian and Odonien. Steve is currently single, working as a postal clerk when his mind is not fully preoccupied by all of his other activities. Unlike some others, he lives with only one cat, Kitscha.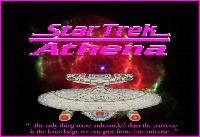 Star Trek Athena OC/TNG: The USS Athena and crew deal with the trials of war and the rewards of space exploration.



Pursuit or Capture PG-OC/TNG Athena is sent to the planet Avoa, home to a prewarp culture of 400 billion people, to intercept a civilian ship that Starfleet fears is attempting to interfere with the culture 04-2011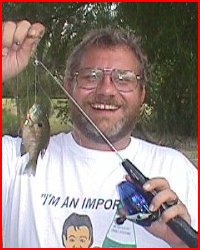 Kevin van Houten: Kevin is, without doubt, the 'least serious' of the contributors to Trek Creative. Kevin has no story-arcs to his credit, does not model, owns very little Trek-related material and has been to exactly one convention. (At which by his report he had a great time) Kevin's small talent tends toward the 'poetical' end of the creative spectrum and he is particularly fond of producing song parodies and filksongs.
Kevin's alter ego, Qe'van, is one of the few remaining members of the Klingon "Bard" caste, while Kevin is a mundane husband, father, grandfather and computer consultant living in one of the ubiquitious suburbs of Dallas. Qe'van lives in an alternate-reality Deep Space Nine and is a former Poet Laureate of Qo'noS.

Kevin's poetry can be read at: Qe`vanHo'ten tai qui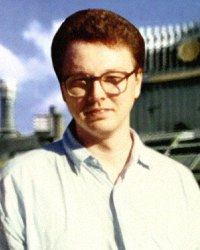 Michael Gray: In his current incarnation as a human, Michael exists in the State of Illinois on planet Earth where, when he can pilfer enough time from daily life, writes Star Trek: Dark Horizon and creates Trek related graphics such as photo manipulations and space scenes. After having written numerous parodies of both Star Trek and Star Wars and having done graphics for other Trek sites, Michael finally decided to try his limber hand at his own Trek fan fiction.
Michael's other interests include physics, the comparative study of religions, music, film, psychology, history, being a husband and father, and co-existing in the same location with the most timid cat in the universe and the most evil cat in the universe.

Michael Gray's Home Page "Ronwald"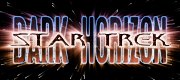 Star Trek: Dark Horizon OC/TNG: Captain Jack McCall leads the crew of the Federation starship USS Chamberlain to unlock the mysteries of the galaxy's ancient past and repel the onslaught of a dark evil consumed by its lust for survival, power, and revenge.


Departure PG-OC/TNG: Moving on can be hard, especially when there are parts of that former life you don't want to leave behind. 07/09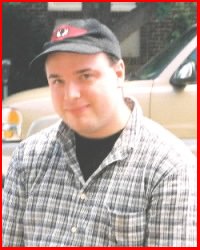 Allyn Gibson: A store manager for Electronics Boutique in Exton, Pennsylvania, Allyn is one of TrekCreative's less active participants. Two things should be noted, right off the bat: Allyn doesn't often write Star Trek fanfic, and Allyn doesn't often read Star Trek fanfic. Why, then, does he participate on a listserv devoted to the subject of Star Trek as applied in fanfic? Because Allyn is, at core, a Star Trek fan, knowledgeable in his own way, with strong views of how the Star Trek universe works, both as a "playground of the mind" and as a "reality one step removed from our own."
Among Allyn's particular interests are the Star Trek novels; you'll find him an active participant on the Psi Phi Star Trek Books BBS. Allyn also manages Alternity, a mailing list devoted to discussing the development of history in the Star Trek universe through an examination of counterfactuals based upon Star Trek's future history. One such speculation on Star Trekhistory, The Kzin Question, attempts to explain how the Kzin, as seen in the Animated Series, can coexist with the universe as seen in Star Trek:First Contact.
Outside of Star TrekAllyn's interests span Doctor Who; eighteenth-century nautical fiction such as the novels of C.S. Forester and Alexander Kent; the writings of Larry Niven, Philip K. Dick, and Ernest Hemingway, among others; Arthurian mythology, particularly the 12th- and 13th-century Grail romances; medieval history; Winnie-the-Pooh; the Beatles; HTML coding; old-style BASIC programming; and The Lord of the Rings.

Allyn's website The World According to Allyn.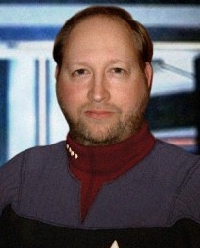 Cleve Johnson lives in central Indiana with his wonderful wife and two sons. After nearly 20 years in the banking industry, Cleve transitioned to teaching writing, math, and various other general education courses at a local business college.
In addition to writing the stories of To Boldly Go, Cleve has published his first book—a fantasy novella titled The Unicorn and the Dragon (www.books.lighttrek.com). He plans to publish more books during the next few years.
In addition to Star Trek, Cleve enjoys Lord of the Rings, both the novel and the movies. His favorite authors include C.S. Lewis, J.R.R. Tolkien, Frank Peretti, and Trek Creative's own Michael Gray.
Cleve's Star Trek

®

fiction is located at www.lighttrek.com

To Boldy Go OC/TNG: Three ships, one mission--Follow the adventurous crews of the starships Monarch, Providence, and Trailblazer as they explore the final frontier.


Legacy: Heart of an Explorer PG-OC/TNG: As Ensign Kelly Stuart prepares to leave on her first deep space assignment, her great uncle, retired Admiral Bob Hathaway, recounts one of his missions to help Kelly understand the adventures that await her. 9/09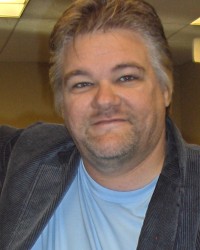 Richard Merk was born in East L.A. to his considerable surprise, so when his parents moved away to the house they would live in for the next twelve years, he cleverly stowed away in the trunk of their car. Brought up in West Los Angeles and educated in Catholic schools, he took to outer space as a starship captain in an attempt to escape this tragic reality. Inexplicably, he eventually graduated from high school. Then, ignoring angry mobs of protestors, he infiltrated Cal State Fullerton, from which he almost graduated.
Starting at age 16, he began to writing adventure stories, computer games, and AD&D modules, and one or two of them are almost finished. Upon discovering the Internet, he began designing web pages, and one or two of those are almost finished.
As he grows older, he shows no signs of slacking off. He remains as youthful and as lovable as ever, and grows more ruggedly handsome with each passing year. You can be sure that this is true, since he has written this little resume himself, and his unwavering devotion to absolute truth is notorious. And for once, he actually finished what he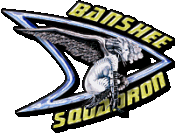 Star Trek: Banshee Squadron OC/TNG: In the darkness beyond the Briar Patch, a monstrous evil lurks just out of sight, poised to devour all sentient life in the galaxy. On the peaceful frontier planet Serenity, caught between warring empires, Lee Carter and her Banshee Squadron are pulled into the struggle that will decide the fate of humanity!

Q'Thalas PG/OC-TNG: Past and present collide for Captain Nathan Cross and the former pilots of Banshee Squadron when eerily similar distress signals pull them into confrontations with an unthinkable enemy. What really happened to Matthew Cross? Who is really to blame? And is it happening again? 22-10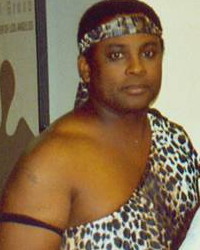 James C Jones II: James, a Star Trek Fan of over twenty years, currently lives in sunny Southern California. His passions are writing fiction (Sci-fi. Alternate History, Action/Adventure and Romance), running a part-time Internet Radio Station, reading, loving his cat, Bovi Stock, and just plain enjoying life. He served many years in the US Army and Army Reserve (with several Honorable discharges and decorations) and though separated from military life he still considers himself a Warrior and Soldier. He currently is an X-Ray technician, a victim of Big Business outsourcing, and a year round student. He holds a B.S. degree in Information Technology (IT) and had once seriously considered a career as a Socio-Cultural Anthropologist.

Universal Radio Station An eclectic mix of all types of genres. Click here to see what is currently playing. Weekends are dedicated to TCR member compilations.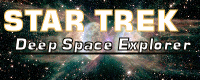 Star Trek: Deep Space Explorer OC/DS9: Follow the adventures of the Federation Deep Space Explorer vessel Reginald L Johnson and its crew as they travel through the fantastically strange and wondrous unknowns of space.

Gaslight Hunter OC/DS9: Captain Chiita Scar'an and his wife, T'Irs, enter a popular Holodeck Adventure titled: Gaslight Hunter. What's in store for them? Adventure, excitement, and the unexpected chance to learn about one another. 03-05
Other Sites by Trekcreative Members
Not yet, but we are working on it.
This is the are a for TC members that don't wish to post Bios, but want their fiction sites listed.
Banners? We have Banners!

Here are some logos for linking to. by Richard Merk, one for dark backgrounds and one for light backgrounds. Take your pick.


Dark background


Light background