Jay 's Biographical Page
Monday December 18, 2006
I should really update this thing every so often. What has been going on?
On Dec 12 this year I turned 40 years old. Officially over the hill. It doesn't feel much different. I am still chewing over the implications. I still feel like a 14 year old who's faking it.
Both Katherine and Barbara have moved out of the House. Actually Kat moved out in 2000. In 2005 she moved wth her husband to Arizona. Now she knows what I mean when I say "Sunlight".
Barb has moved out with a Friend named "Kurama" - we are rooting for them.
This makes Rat-Hole, Sweet Rat-Hole much cozier and a better scale. Myself, Sandi and three crazy cats.
Well I haven't really been gaming since Summer of this year. My current work Schedule is FRI, SAT, SUN from 1930 to 0730.
I am currently working as a Security Guard for State Protection Services in Spokane. I started at the end of June. The Boss likes me and things are going well there. This is a refreshing change.
I quit SCC in October of 2005. It turns out I really loved LEARNING it - but I sucked at DOING it.
I went back to driving for Inwest Express. I Loved that Job. But it paid poorly. My 1992 Ford Festiva just got used up in it.
I went to work breifly for Laidlaw. They trained me very well but quickly decided I wasn't working out.
Then I went to work for Special Mobility Services. Driving a para-transit bus. That job ROCKED. Sadly I did not do too well there and was let go.
Looking for something a little slower and less pressure driven I returned to the security field. It was my great good fortune to be accepted by State Protection Services and so far, so good.
This summer we suffered the loss of both Jenni-Purr and Purr-Bot, our long time cats. Both reached an advanced state of age and declining health that required them to be put down. That sucked.
We discovered that in terms of quality and sympathy, The Garland Animal Clinic on Garland Ave in Spokane totally rocks. Better than anyone else, since Dr Price retired.
We have acquired three new Cats. I have detailed them in my Blog - I intended my blog to replace this bio-page as a way of updating you about my status and my doings. It would help if I actually posted stuff there.
I have high hopes of soon being able to get pics of the kits and posting them here. More cute kitty pics! That's what the internet is FOR!!
Google and Wikipedia are no end of fun, too.
As for writing. I continue to write. My current Job is perfect for it. I no longer have any real idea where I am going. I am just trying to say things that are cool. We'll see where it goes.
And for some reason I keep making up Trek Role Playing scenarios even though I don't have a Trek RPG group and haven't for a long time.
Something in my brain I guess. If you're a Trek GM please feel free to steal 'em. They don't do any good sitting on my hard drive.
That's all for now. More as it comes up, I guess.
24, January, 2004
Well the news has been very good and then very bad.
First the good stuff - Sandi and I got married on 29, Aug 2003, ten years after we began our adventure together.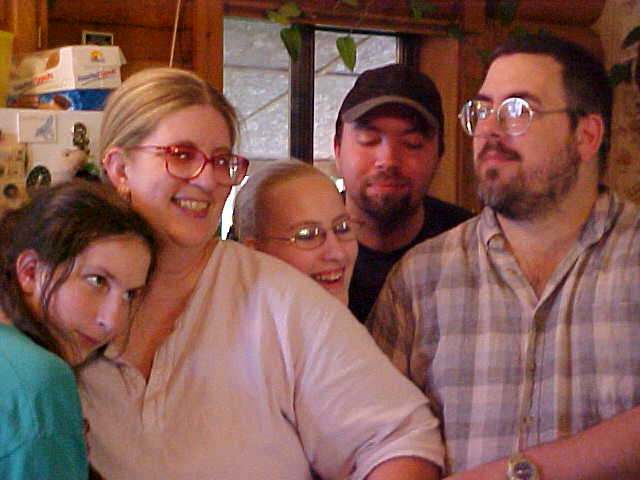 This is a picure of my family two days later at the home of Sandi's parents.
From L to R
Barbara (Younger Daughter), Sandi (True Love), Katherine (Older Daughter), Tom (Son-In-Law, Married to Kat), Me (Hairy Monkey)
So far this has worked out very well and has been the best of good things. I am now very happy to be Mister Sandra Hedlund...
Now the bad news, In November of 2003 we lost Sandi's Father, Gene Hedlund.
This is Tom, Kat and Gene at the wedding in August.
I really liked Gene. He was headstrong, opinionated, brash, loud and a damn-the-torpedoes-full-speed-ahead kind of guy. This is a lot of what I liked about him. He also had a keen eye for human nature, and watched people carefully.
Sandi has had her work cut out for her to recover from this blow and proceed forward with her life. It's hard. It feels like a piece of yourself is missing. Mainly because it is.
But, as with my own Mom and Dad, I believe Gene is waiting for us on the other side, and watching us with love as we pass through the days we have left to us. A few thousand. Maybe a few tens of thousands if we're lucky. But only temporary. We'll be along soon enough. I hope I can rack up enough good stories to tell him when I see him.
Some more good news ...
Sandi graduated Spokane Community College in December with a nice new AAS as an electronics engineering technican. She hasn't found regular work yet, but our hopes are high.
I go back to school at the end of March. We hope that with some real job credentials under our belts we can enhance our standard of living somewhat.
Oh and two more things.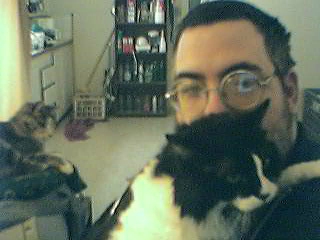 This is Purr-Bot and me. As you can see I have web cam, so now it's possible to see me in my natural habitat here at rathole-sweet-rathole. Purr-bot is a 13 year old black and white long haird spoiled breed. She didn't get the idea of the camera and found the whole thing uncessarily complex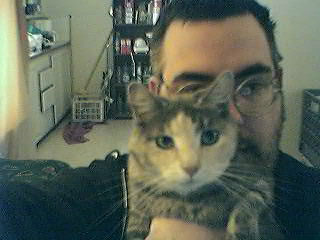 This is Jenni-Purr. Arguably more photogenic and definitely more willing to play the "look at the webcam" game. Jenni-Purr is an 11 year old Brindle with piles of attitude and a deep dislike of Purrbot. But she's a sweety to her people.
I am, surprisingly still working at my temp assignment for the County of Spokane. As a cubicle bound wage slave I shuffle papers, and do my best to keep on keeping on.. But the end is in sight, as I said, in late March I am out the door and on with my life.
July 20, 2002
We have moved away from Spokane's North Side, and now live approximately 2.5 miles out side of Downtown Spokane, in an Area commonly called "Felony Flats" This neighborhood is not as bad as common wisdom in Spokane suggests and gets better the further west you go.
I am still working for Humanix at the Spokane County Public Works building. Our new house is a small rental approximately 1/3rd the size of the place on Lee St. E-mail me if you'd like to get in touch.
-*-
            Happy news for me.  In the week of Nov 11, 2001,  I discovered that my Uncle, Patrick Lamar Flynn Jr. was still among the living when he called me.  We'd fallen out of touch and given the death of my mother, and the fact that Pat is older than she is, I was afraid he'd left us.  Happily,  it seems that my brother and myself are not the total orphans we'd been fearing.
            In less happy, but not as bad as all that, news.  My family and I will be moving soon,  to another location in Suburban Northside Spokane.  Our experiment of being home owners has failed, due to expense, and the growing awareness that we have little or no taste for the routine maintenance that being home owners entails.
            Although owning a home and property is a dream of many, financially, it makes as much sense to sink money into a retirement fund, and you don't have to mow that.
            I will post an updated address here when I know what it is.  We expect to move in January 2002.
            Congratulations to Katherine Hedlund on her Marriage to Tom Martin in September 2001.  With snively eyes and full hearts we wish the happy couple all the best the world has to offer.  URLs and E-mail addys added here as appropriate.
Jay P. Hailey
EDUCATION
June 2001, trained in the methodologies and contents of Road Files and Records of Survey used in the Spokane County Public Works Department.
March 2001, trained at Dakotah Direct to do preprocessing for Mortgage applications.
October 2000 trained at Software Spectrum for Tech Support on Windows 95,08, ME, NT 4 and 2000, as well as DirectX.
July 2000, Training courses at Volt Services Group for Typing, Microsoft Word 97, Microsoft Access 97, Microsoft Power Point 97, and Microsoft Excel 97.
February 2000, ESD, Safety, Hazardous Materials Training at Agilent Technologies.
February 2000, Through hole, surface mount soldering at Volt Services Group
1983 - present, Self taught Computer and Hardware skills.
1980 - 1982 Alhambra High School, graduated 1982
SKILLS
* Tech Support for Computers
* Knowledge of Microsoft operating Systems enhanced and upgraded
* Microsoft Word 97*
* Microsoft Word 5.0*
* Microsoft Excel 97*
* Microsoft Power Point 97
* Microsoft Access 97
* Corel Word Perfect 7.0*
* Word Perfect 5.0*
* Windows ME
* Windows 98*
* Windows 95*
* Windows 3.1*
* Windows 2000
* Windows NT4
* DOS 6.22*
* DOS 5.0*
* Various DOS and Windows Software Diagnostic tools*
* Norton Diagnostics*
* Microsoft Internet Explorer*
* Netscape Navigator*
* Lotus 1-2-3*
* Lotus Works*
* MacAffee Anti-Virus*
* Norton Anti-Virus*
* F-Prot Anti-Virus*
* Web Page Authoring and maintenance*
* BBS Sysop*
* Diagnose and solve Hard ware related problems*
* Install and upgrade hardware components for PCs.*
* Through hole soldering
* Inventory
* Shipping & Receiving
* Customer Service
* Make change bare handed
EXPERIENCE:
IMAGING TECHNICIAN, SPOKANE COUNTY PUBLIC WORKS June - 2001 - present
Using networked Windows 95/95/NT 4 computer and various scanners I image documents and index them for storage and later used by display and search software for the County of Spokane.         
PREPROCESSING FOR HOME LOAN APPLICATIONS, March 2001
Trained to help customers calling in to a call center understand which Wells Fargo Home Mortgage product was best suited for them, and whether a mortgage or refinancing was in their best interest.
TECH SUPPORT October 2000 - January 2001
Helping Customers with Computer problems successfully resolve their issues over the phone.
COMPUTER SERVICE                                   August 1990 - present
Upgrade, repair, maintain and assemble IBM Compatible WINDOWS based Computer Systems. I have assembled Five separate DOS and WINDOWS based systems including the current one in use at my home.
COMPUTER OPERATOR: August 1983 - Present
Using software to achieve specific goals related to experiences as writer and editor. This is the source for most software skills noted above.
WEB PAGE AUTHOR                                                November 1997 - present
Arranging graphics and content into a Webpage that's easy and entertaining to read.
EDITOR,                                                                      June 1983 - present
Arranging stories articles and art works into a publication that's easy and entertaining to read.
SPECTRUM Newsletter,(Contributing Editor),  CALYPSO Newsletter (Chief Editor), THE UNIVERSE: TREK (Publisher, Chief Editor and Author) CHEAP TREK 'ZINE (Publisher, Chief Editor and Author)
WRITER,        July 1976 - present
Creator of stories and fiction, Writing and editing articles and stories.
EMPLOYMENT
HUMANIX CLERICAL SERVICES, Spokane WA  April 2001 - present
Imaging tech for Spokane County Public Works Department.
PROVISIONAL STAFFING SERVICES, Spokane WA October 2000 -  April 2001 (On Hiatus)
Tech Support for Software Spectrum and Microsoft, Supporting Microsoft OCS Software. Customer service over the Phone, resolving issues with Consumer Software, and some operating system issues. Customer relations.
VOLT TECHNICAL SERVICES, Spokane WA Feb 2000 to October 2000
Production Operator at AGILENT TECHNOLOGIES; QA Inspector, Product Packager HUNTWOOD INDUSTRIES; Product Packager BOISE CASCADE Container Unit; Assembler EZ-LOADER, Production Operator QA Inspector H&H MOLDING; Assistant Production Planner, TELECT, FRITO-LAY, Inc, ALTEK, Inc
SPOKANE COUNTY BOARD OF ELECTIONS November 1992 to February 2000
Election Judge
SANDRA HEDLUND, Spokane WA April 1993 to Present
Homemaker, Cook, Cleaning Services, Home Day Care for children ranging in ages from 18 months to 16 years.
YELLOW CAB, Spokane WA September 1992 - April 1993
Cab Driver, Customer Service. Navigated Spokane and local area.
DAKOTAH DIRECT, Spokane WA February 1992 - September 1992
Telemarketer.
JOSEPH WIENFURTER, Alhambra CA January 1991 - September 1991
Home health care
Bio for Writer's List Fanfic e-mail list
Name: Jay P. Hailey
E-mail: jayphailey@hotmail.com "Original!"
Favorite Series: Star Trek. Things vaguely similar to Star Trek. Good Character Drama, West Wing is a current favorite,
Favorite Genre: Space Opera, Science Fiction, and Detective
Favorite Character: I write OC's so telling you which one is my favorite won't tell you anything until you've read my stories.
Least favorite Character: Q
Current WIPs: Star Trek: Outwardly Mobile (My OC series) Episode #51 - "Untitled Li'ira Episode"; ST-OM unknown episode "Frames of Reference"; ST-OM Website v 2.0; 5th Vista City story (Vista City is an OC detective sort of thing I am writing. Not Trek related or even fanfic of anything else.)
Other: Other what?
When Not Writing Fanfic: I am a part time temp laborer in multifarious fields, and a part time house husband. Step Dad to Barbara (Age 17) and Kat (age 19); Complete sucker to my cats and then any other cats I meet.
Character Information Sheet
-Full name: Jay P. Hailey
-Adventuring name: Jay P. Hailey
-Birthdate: 12 - 12 - 66
-Birthplace: Redondo Beach, California (about 4 miles down the coast from where they film Baywatch)
-Sex: Male
-Height: 5'8.5"
-Weight: 256 lbs.
-Build: Round
-Skin coloring: Pasty
-Eyes (color, shape): Green, covered with Glasses
-Hair (color, style, length): Brown kept buzzed off short for ease of maintenance.
-Distinguishing Marks (scars, etc.):
Glasses, scruffy beard, usually wears knee brace
-Physical Description (when on personal time):
Hairy, overweight monkey at the computer.
-Personality:
Quirky, variable between imaginative and sulky.
-Psychological Quirks and Problems:
Too many pages to go into here.
-Parents/Relatives:
Mom, Margaret Ann Flynn of Los Angeles, Deceased 02-01-97
Father, Joseph Everett Hailey of North Carolina, Deceased 02-03-98
Brother, William Frick, of Los Angeles, Currently resides in Spokane
Uncle Patrick Lamar Flynn Jr. of  Los Angeles,  currently resides in Tehachapi, CA
-Family
            Sandra J. Hedlund is my True love and Wife.
            Katherine L. Hedlund-Martin  Is my oldest Daughter.  Recently married she's stretching her wings and charting her own course.  Which makes me really snively  overly emotional at times.
            Barbara A. Hedlund is my youngest daughter.  She's intelligent and fiercely imaginative. She can curse like a Portugese Sailor.  Someday she'll feel like posting her stories to the net.  I'll have a link to that page, then.
-Friends
Dennnis Washburn best friend, Carol Daugherty, Debbie and Teddy Hill, Tom Lentz, Kitty Howard, Tamarien Flaten, Broc Olson
T. LeRoy Birdine, Brenda Gilmore, Ken Strickland, Patricia Williams, Hazel Hughes, James C Jones II, Ed Pryor, Phil Trank
Garry Stahl
James C. Jones, one of my oldest and dearest friends noticed that I had forgotten his name on my Bio Sheet. Duuuhhhh. Not only is James the guy who gave me my first technical lessons about computers, but he's been a constant source of support and encouragement ever since I met him, nigh unto 20 years ago now (Actually 17 at this point, but 20 sounds more impressive). We are veterans of the late and occasionally even Lamented USS Shadowstar Trek Fan club. James Dreams big, and you're going to have to hustle to keep up with *him*.
-Lovers
Sandi Hedlund, True Love
-Likes/Interests/Hobbies:
Star Trek, Computers, Story telling, Role-Playing games
-Skills/ Training/ Professional Skills:
See the Resume
-Goals and Ambitions:
To become a well paid Professional author.
-Pets:
Purr-bot, a  13-year-old Black and white long haired house cat.
Jenni-Purr, an 11-year-old brindle colored short haired house cat.
Buddy, a 2 year old Tom Cat, all black long haired spoiled variety (See Purr-Bot), approximately 10 pounds.  Sadly Buddy Suffered a compound fracture of his right foreleg in AUG 2001 and had to be put down.  Buddy joins a sadly large number of Cats who will be waiting impatiently for my attention when I reach the Afterlife.  Hopefully my Mom and Dad have him snuggled in close until I get there.  RIP, Buddy.
Fang, a 7-year old shorthair gray stripped cat, Sister to Jenni-Purr.  Fang was the very essence of Catly grace beauty.  Sadly the neighbors' Greyhound took Fang from us in AUG of 2000 during an attack.  Fang fought well but was way out of her weight class.  Due to untenable physiological damage, she was put down that evening. Hopefully she has found a warm and comfy place in the Afterlife to wait for us, where Angels will let her eat off their plates.
"Tapioca,  Karikoke  or "Squirelly-Kitty"  maybe 6 months?  Calico female,  Squirelly joined our house hold on Nov 22, 2001, after making our acquaintance that Halloween.  After a period of feeding her outside,  we elected to take the jump and adopt all the way into our family.  Squirrelly-Kitty is not squirelly at all (The name refers to her overly long and fluffy tail) and took to the idea with great aplomb and appreciation.
Jenni-Purr and Purr-Bot were less than over joyed.  Today though they seem to accept Tapioca with much better grace and tolerance than they have for each other.
Addtional (07-20-2002) Sadly Tapioca could not and would not seem to get together with the idea of house breaking. after several weeks of smelly messes and surprises in the house we were forced to find Tapioca a new home in a more appropriate environment. We wish Tapioca luck in her future endeavors.
Well, I do. Purr-Bot and Jenni-Purr were happy to see her go.
Any cat I run across for the duration of that encounter
-Primary Power/Weapons:
A vicious, lashing tongue backed up by no physical force what so ever
-Secondary Powers/Weapons:
Looking pathetic
-History and Experiences Which have affected Character greatly:
I was Born in 1966 Los Angeles and lived there until 1990
Then I moved to Spokane WA, The weather sucks but the people are very, very much nicer.
I watched Star Trek from a young age, but became a fan in December of 1979 when at the Fox Theater in Spokane WA I saw Star Trek the Motionless Picture and was hooked by Gerry Goldsmith's wonderful theme. I have been a die-hard Star Trek fan ever since.
I started my first story in the summer of 1976. I was 10 years old. It features the adventures of me and my best friend Shawn when we got super powers. Mercifully, it was never finished.
I have been role playing since 1980, in fandom since 1983, I have owned and been fist fighting with IBM compatible computers since 1990, and I have been writing almost continuously since I became a house husband in the spring of 1993.